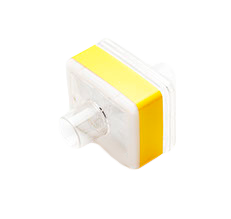 W oddymiarce Wavevac Dual marki Loktal zastosowana została podwójna filtracja: HEPA. i dodatkowy filtr z aktywnym węglem. Zapewnia to wydajność na poziomie 99,99% i maksymalne zabezpieczenie przed wirusami, takimi jak HPV. Filtr jest kompatybilny z oddymiarką Wavevac Dual. Rejestracja ANVISA: 80102510526. 
Filtr HEPA, z ang. High Efficiency Particulate Air Filter zapezpiecza pomieszczenie zabiegowe przed unoszeniem się w nim różnego rodzaju szkodliwych substancji, m.in. drobnoustrojów, wirusów czy grzybów. Stanowi to zabezpieczenie personelu medycznego w trakcie wykonywanych zabiegów z zakresu chirurgii, dermatochirurgii, ginekologii czy blefaroplastyki. W filtr wyposażona jest oddymiarka Wavevac Dual marki Loktal, którą podpina się do modułu noża radiochirurgicznego Wavetronic 6000 Touch.
Filtry HEPA wyłapuja zarówno drobnoustroje (mniejsze mniejszych niż 0,3 µm), jak i większe elementy, np. kurz czy sierść zwierząt, dlatego są powszechnie stosowane nie tylko w branżach, których warunki pracy wymagają bardzo dobrej jakości powietrza, ale też w przemyśle, branży spożywczej, a także w urządzeniach domowych. Standardem jest korzystanie z nich przez placówki medyczne i laboratoryjne. Filtry HEPA wykonane są najczęściej z polipropylenu lub innego tworzywa sztucznego. Jego cienkie arkusze układa się w formie harmonijki i mocuje na specjalnej ramie. Oczyszczanie w filtrach HEPA podlega czterem mechanizmom: dyfuzji, przechwycenia, inercji i przesiewania. Filtr użyty w urządzeniu marki Loktal wyposażony jest w dodatkowy komponent, czyli w filtr węglowy, który podnosi skuteczność działania.